Main 5' x 8' Barcelona Rug Content Container
Main 5' x 8' Barcelona Rug photo container
Main 5' x 8' Barcelona Rug photo
Supporting alternative photos for 5' x 8' Barcelona Rug
Alternative 5' x 8' Barcelona Rug photo 1
Alternative 5' x 8' Barcelona Rug photo 2
Alternative 5' x 8' Barcelona Rug photo 3
Alternative 5' x 8' Barcelona Rug photo 4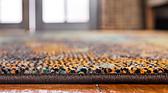 Alternative 5' x 8' Barcelona Rug photo 5
Alternative 5' x 8' Barcelona Rug photo 6
Alternative 5' x 8' Barcelona Rug photo 7
Alternative 5' x 8' Barcelona Rug photo 8
Supporting alternative photos for 5' x 8' Barcelona Rug
Alternative 5' x 8' Barcelona Rug photo 9
Alternative 5' x 8' Barcelona Rug photo 10
5' x 8' Barcelona Rug Description Container
5' x 8' Barcelona Rug Product Description
5' x 8' Barcelona Rug Pricing & Shipping Container
5' x 8' Barcelona Rug Pricing & Shipping Content
Retail Price: C$1464
Manufacturer's Discount Price: C$318
Price After Extra 50% Off: C$159
5' x 8' Barcelona Rug Color Variations Container
5' x 8' Barcelona Rug Color Variations
5' x 8' Barcelona Rug Sizes and Shapes Available Container
Sizes and Shapes Available for 5' x 8' Barcelona Rug
Made in Turkey, this Barcelona Collection rug is made of Polypropylene. This rug is easy-to-clean, stain resistant, and does not shed.
Colours found in this rug include:Multi, Green, Light Blue, Orange, Gold. The primary colour is Multi.
This rug is 1/2" thick.
The measurements for this rug are: 5 feet 0 inches wide by 8 feet 0 inches long.
This rug's SKU # is 33119610
5' x 8' Barcelona Rug Video Container
5' x 8' Barcelona Rug Review Container
5' x 8' Barcelona Rug Review
5' x 8' Barcelona Rug
is rated out of
5
by
36
.
Rated

5

out of

5
by
RED2015
from
Beautiful colours and design!
I ordered this rug on line a couple of weeks ago. From the photo, I thought the colours would fit well in my living room and the design would match my decor. The order was easy to place and just a coupe of days later, the rug arrived. Easy process! It looks fabulous and is very comfortable under my feet. Love it! The colours are even more vibrant and appealing than in the pictures.
Date published: 2015-10-21
Rated

5

out of

5
by
Meli123
from
Pleasantly surprised
I placed my order on Sunday and received shipping info on Tuesday. I then realized that it ships from the US and dreaded what the duty taxes would be and if there would be a US charge on my credit card. I was only charged exactly what it said I would be online. The rug arrived Friday and looks spectacular. Great quality, exactly what it states online. Very happy with this purchase! I'm already thinking of where else to put a rug in my home!
Date published: 2016-02-21
Rated

5

out of

5
by
Jokia
from
Fantastic experience!
We bought our rug on a Monday morning, and it was on our floor by Thursday night. Great quality, fantastic price, and can't beat the speed of delivery. Will definitely be buying more rugs here!
Date published: 2016-03-07
Rated

5

out of

5
by
chrismayblok
from
Beautiful Rug and delivered FAST!!
Our office just bought this rug and it is absolutely wonderful :)
Date published: 2016-02-12
Rated

5

out of

5
by
Bancroft Ontario
from
During the past two years I have bought 3 different rugs at rugs.ca and they have all been delivered within a week, have been exactly if not better than shown and have stood up to traffic!! I love rugs.ca andI highly recommend this site!!!
Date published: 2016-10-23
Rated

3

out of

5
by
jdmc
from
I already wrote a review which obviously hasn't been posted or else you are wasting my time. I ordered the rug on late Friday afternoon and it was delivered Wednesday morning. Good. The colours of the rug were what was shown on the website. Another good. The rug I ordered was listed as a 10' x 13' and I even checked the "Specifications" that again stated it was 10' x 13'. The rug I got was 4" in width shorter and 2" in length longer. Not a big problem but I had already cut the underpad that I had to the 10 x 13 dimensions. Now I have to re-cut and patch the underpad which is a pain in the butt. I realize that in the general description of the rug the dimensions may not be exact but when I take the time to confirm the dimensions through the "Specification" section then I would expect them to be accurate. A lesson learned. Although I did not order the underpad from you I am questioning what size of underpad I would have gotten if I had. I will still order further product from your company because the delivery was very good and the colours were accurate.
Date published: 2016-10-17
Rated

5

out of

5
by
GoJo
from
Exactly what I was looking for!
Rug arrived today....a day ahead of scheduled delivery. Well packaged. The colors are perfect for my living room. Well made product. Looking forward to enjoying it for a few years. My dog loves it too!
Date published: 2018-04-17
Rated

4

out of

5
by
DextersRug
from
It makes our living room "pop'"
Great colors. Very happy with the look!! Rugs.ca had a nice variety of super large area rugs to choose from. The splash of color I was looking for.
Date published: 2018-02-06
5' x 8' Barcelona Rug Ask a Question Container
Ask a Question about 5' x 8' Barcelona Rug
Will we be charged exchange rate or other charges?  We are located in Mississauga, Ontario, canada
we take care of taxes, duties, and fees
Date published: 2018-08-16
I have a Casablanca rug #B803B-C0185 !85X185 and I would like to reorder or something similar. Do you have in stock?
please contact our customer service for further assistance 1-877-888-8784
Date published: 2017-06-05
What is the sizing, inches, centimetres?? Thanks
this is a 7 foot x 10 foot (or) 213x305 CM, the size appears in feet and inches however, you can convert to centimeters by clicking on the box (CM) on the home page
Date published: 2017-05-26
I would like to use this rug at the bottom of our entryway stairs inside.  Is this rug durable enough to withstand the traffic flow?
This rug is absolutely durable enough to withstand everyday, all day traffic. Please feel free to contact our Customer Service number at: 1-877-888-8784 (Toll Free) or email us at: info@rugs.ca
Date published: 2017-05-08
What is the fabric of the rug?
This rug is made of Polypropylene.
Date published: 2017-03-14
I am planning to put it under our queen size bed, will this size be enough? Ok to be bigger but not smaller please.
The size of this rug (https://rugs.ca/rugs/3119610) would be 5' x 8', and would likely be completely obscured by a queen-sized bed. However, the sizing and style will be a personal preference, most often the 7' x 10' size would be used with this size bed (https://rugs.ca/rugs/3119608), or a larger rug in some instances.
Date published: 2017-01-17
I'm reviewing product at rugs.ca and pricing is in Canadian dollars. What import duties & taxes will I be expected to pay on product delivered to a Canadian address?
We cover all import duties and taxes to get your rug to you
Date published: 2016-12-10
What material are the rugs made of? I can't find a description of how they are made, where, what of. I would like more information.
This rug is made of polypropylene. It is machine made at our manufacturing facility in Turkey
Date published: 2016-11-02
More Shapes and Sizes to 5' x 8' Barcelona Rug Container